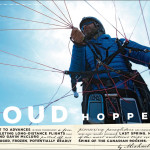 Cloud Hoppers Download PDF
Thanks in part to advances in wing technology, a few pioneering paragliders are smashing the limits by completing long-distance flights that were once thought impossible. Last summer, high-fliers Will Gadd and Gavin McClurg pulled off one of the most ambitious trips ever attempted: 385 miles down the jagged, frozen, potentially deadly spine of the Canadian Rockies.
It's shortly after five on the evening of August 1, 2014, and the winds on Mount Robson are calm, the sky is sapphire, and the sun is blazing, pushing temperatures to a near record 83 degrees. Robson—at 12,972 feet the highest peak in the Canadian Rockies—is so far north that darkness won't fall here for several hours.
Suddenly, a red streak flits past the summit. Next, an orange blip loops into view. They're paragliders, two of them, waltzing with the mountain, which looks like a Giza pyramid clad in ice. For nearly an hour, Will Gadd and Gavin McClurg soar like lazy raptors.  Continue reading →