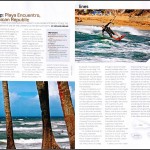 Playa Encuentro, Dominican Republic Download PDF
Head a scant three miles downwind of Cabarete's renowned Kite Beach to ride the uncrowded breaks at one of the Caribbean's premier surf spots.
Playa Encuentro is a miraculous kite spot I discovered almost by accident. Three years ago, I had arrived in Cabarete, the famed kite mecca of the Dominican Republic, with a spanking-new directional board and no clue how to ride it. A local kite instructor, whose name is Francis Gil and teaches at Laurel Eastman Kiteboarding, had watched me struggle my entire session to stay upwind in waist-high surf.
Cabarete is situated on the verdant North Coast of the Dominican Republic, where easterly trades blow year-round but peak in summer, when blistering thermals convect off the country's interior mountains, boosting wind speeds by 10-plus knots. The mountains also shield the North Coast from the brunt of hurricanes that, once offshore, deliver world-class swell to Cabarete and neighboring surf spots. Continue reading →