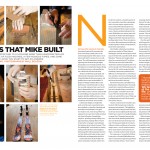 The Skis That Mike Built Download PDF
What could be more satisfying to a lifelong skier than handcrafting his own boards? A couple of flesh wounds, a few noxious fumes, and some serious marital strife later, you start to get an answer.
Not long after moving to Colorado, I purchased a pair of all-mountain skis from a local shop. Initially naïve to the meteorological quirks of the region, I soon discovered that it's no place for a one-ski-quiver. The wild temperature swings and big dumps that bookend long droughts demanded a more versatile portfolio. I'm a firm believer in trying before buying. Doing so with skis, however, only propelled me into a black hole of demo indecision.
Titanium sandwiches, pulse pads, multidirectional composites, sintered bases, triaxial braiding, double monocoques—ski peddlers love to spew technobabble. To grasp how design variables affect a ski's performance, I needed a hands-on education. As a kid, whenever I got a new toy, I'd have it disassembled into its component parts within an hour. (I wasn't nearly as deft at reassembling.) It's impractical to reverse engineer skis like childhood toys, so I decided to take the opposite tack: I was going to build my own boards—from scratch. Continue reading →