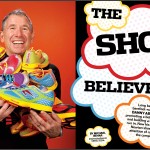 The Shoe Believer Download PDF
Long before the barefoot-running craze, Danny Abshire was promoting a better way to run—and building a better shoe to run in. Now his revolutionary Newton shoes have the attention of runners and the competition.

"Okay, gang, follow me!" And with that simple command, Danny Abshire—all five feet, six inches of running-shoe showmanship—takes off through the streets of Boulder, Colorado, with 40 or so runners of all sizes and shapes and PRs following behind. Most of them don't know each other, or the man they're trying to keep up with. The only thing they have in common is the shoes on their feet, and for that they can thank this fast-moving salesman.
At first glance, the shoes look like any ordinary trainers, except for the flashy neon color schemes. But those attending this Saturday-morning running clinic soon realize that the Newton— as the shoe is called, and which Abshire first started developing 20 years ago—is nothing like what they've previously worn. It weighs about a third less than a conventional running shoe but is not—as Abshire likes to point out—a so-called "minimal" shoe, the kind with the barely there sole. While Newton's heel-to-toe pitch is more level than that of most name-brand models, what makes this shoe so unorthodox is the plump and springy cushioning in the forefoot. The odd design promotes something Abshire calls "natural running," which the inventor is about to demonstrate with all the avuncular charm of a young Mel Brooks, the comic he vaguely resembles. Continue reading →