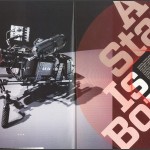 A Star is Born Download PDF
Digital video was supposed to replace film. But the picture looks flat and fake, and Hollywood was slow to switch. That's changing. The Red One, an ultrahigh-res digital camera, is ready of its close-up.
A crowd has gathered front of the Las Vegas Convention Center, where a security guard is about to unlock the main entrance. It's less than a minute before 9 am, the official opening of the 2008 National Association of Broadcasters Show—typically a sleepy sales and marketing event known more for schmoozing than buzz. But as the glass doors open on this April morning, a hundred people race toward a large crimson tent in the center of the hall.
The tent is home to Red Digital Cinema and its revolutionary motion picture camera, the Red One. Standing nearby is the man who developed it—a handsome guy with a neatly trimmed goatee and a pair of sunglasses perched atop his clean-shaven head. He clutches a can of Diet Coke in his left hand, an unlit Montecristo jutting from between his fingers. Continue reading →