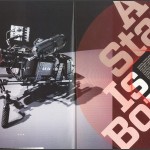 A Star is Born Download PDF
Digital video was supposed to replace film. But the picture looks flat and fake, and Hollywood was slow to switch. That's changing. The Red One, an ultrahigh-res digital camera, is ready of its close-up.
A crowd has gathered front of the Las Vegas Convention Center, where a security guard is about to unlock the main entrance. It's less than a minute before 9 am, the official opening of the 2008 National Association of Broadcasters Show—typically a sleepy sales and marketing event known more for schmoozing than buzz. But as the glass doors open on this April morning, a hundred people race toward a large crimson tent in the center of the hall.
The tent is home to Red Digital Cinema and its revolutionary motion picture camera, the Red One. Standing nearby is the man who developed it—a handsome guy with a neatly trimmed goatee and a pair of sunglasses perched atop his clean-shaven head. He clutches a can of Diet Coke in his left hand, an unlit Montecristo jutting from between his fingers.
Jim Jannard, 59, is the billionaire founder of Red. In 1975 he spent $300 to make a batch of custom motocross handlebar grips, which he sold from the back of a van. He named his company Oakley, after his English setter, and eventually expanded into sci-fi-style sunglasses, bags, and shoes. In November of last year he sold the business to Luxottica, the owner of Ray-Ban, for a reported $2.1 billion.
Jannard won't say how much money he has poured into Red, but his target market clearly appreciates the investment. Supplicants swarm the tent, many of them with offerings—fine wine, gourmet coffee, single-malt whiskey—all to thank Jannard for building the Red One. "I guess they just like me," he says with a wry smile.
It's more than that: His team of engineers and scientists have created the first digital movie camera that matches the detail and richness of analog film. The Red One records motion in a whopping 4,096 lines of horizontal resolution—"4K" in filmmaker lingo—and 2,304 of vertical. For comparison, hi-def digital movies like Sin City and the Star Wars prequels top out at 1,920 by 1,080, just like your HDTV. (There's also a slightly higher-resolution option called 2K that reaches 2,048 lines by 1,080.) Film doesn't have pixels, but the industry-standard 35-millimeter stock has a visual resolution roughly equivalent to 4K. And that's what makes the Red so exciting: It delivers all the dazzle of analog, but it's easier to use and cheaper—by orders of magnitude—than a film camera. In other words, Jannard's creation threatens to make 35-mm movie film obsolete.
Two years ago, Jannard brought a spec sheet and a mock-up of a camera—not much more than an aluminum box about the size of a loaf of bread—to NAB 2006. Even though it wasn't a working product, more than 500 people plunked down a $1,000 deposit to get their names on a waiting list. For months, industry watchers wondered if the company was for real. Today, there's no question. The Red One is being used on at least 40 features. Steven Soderbergh, the Oscar-winning director, borrowed two prototypes to shoot his Che Guevara biopics, which premiered at the Cannes Film Festival in May, and later purchased three for his film The Informant. Peter Jackson, the Lord of the Rings himself, bought four. Director Doug Liman used a Red on Jumper. Peter Hyams used one on his upcoming Beyond a Reasonable Doubt. Digital cinema that's all but indistinguishable from film is finally coming to a theater near you.
THE RED HEADQUARTERS is in Lake Forest, California, a sprawling Orange County exurb consisting mainly of strip malls and office parks. The 32,000-square-foot facility, which Jannard recently bought for a reported $7.7 million, has a stark white exterior unbroken by windows except at the entrance, where a winged human skull is painted on the glass. Jannard, wearing blue jeans, black slip-on sandals, and a lime-green short-sleeve shirt, greets me in the lobby and ushers me through a set of gray metal doors. On the way into the workspace, there is a sign:
1) Please knock.
2) Take two steps back.
3) Kneel.
Since I'm getting a tour from the wizard himself, I'm apparently excused from genuflecting.
Behind the doors, the walls are festooned with camouflage netting—a nod, perhaps, to the post apocalyptic design of the steel-clad Oakley headquarters half a mile away.
"I had been thinking about this project for a long time," Jannard says. "As a camera fanatic and a product builder, this was something I seemed destined to do." When businesspeople talk destiny, it can sound like bullshit. But at Oakley, Jannard not only ran the company, he personally shot one of its two TV spots and all of its print ads from 1975 to 1995. He owns more than 1,000 cameras, both still and motion picture, several dating back almost a century. "I have a Bolex, Aaton, Arriflex, Eyemo, Filmo, Mitchell, Photosonic, Beaulieu, Keystone—just about every movie camera you can think of."
In 2004, Jannard bought a Sony HDR-FX1—the first hi-def videocam for consumers. When he found he couldn't use the files it produced without translation software from a company called Lumiere, he telephoned Lumiere's owner, filmmaker Frederic Haubrich. "I told Frederic that I couldn't even view my footage on a Mac and that this had pissed me off enough that I wanted to build my own camera. And he said, 'Jim, I know guys in the industry who can help.'" Haubrich introduced Jannard to interface designer Ted Schilowitz.
Schilowitz, Haubrich, and Jannard spent a year trying to design that dream camera, one that would combine the practical advantages of digital moviemaking with the image quality of analog film. They recruited mathematicians, programmers, digital imaging experts, hardware engineers, and physicists. "We needed a bunch of guys who were inventors to come up with entirely new ways of getting to the finish line," Jannard says. He kept the project quiet until his team could determine whether building the device was even feasible, but rumors swirled through Hollywood about some kind of mysterious supercamera in the works. "I didn't know who Jim was," Soderbergh says. "But I heard about Red because they were canvassing filmmakers and cinematographers, asking, 'If you could wave a magic wand, what camera would you design?'"
Most of the work took place in what employees call Jim's garage, a 20,000-square-foot warehouse across the street from Red's massive headquarters. The team quickly concluded that existing technology was inadequate. The guts of the camera—the image sensor and all the accompanying circuitry—would have to be created from scratch. It was a daunting challenge, but the fact that Jannard's management style falls somewhere between Mr. T and Steve Jobs on the autocracy scale helped. "What separates us from other camera companies is that the vision guy is the decision maker," he says. "That was one of my biggest advantages at Oakley, and it's the same at Red—I'm in the trenches, in the product development, and I make the final call. Red is a benevolent dictatorship."
THE VIDEO REVOLUTION has been on pause in Hollywood. Just as digital still cameras now rule the photography market, hi-def digital movie cameras were supposed to replace film. But moviemakers never fully bought in. Typical digital video cams use prisms to split incoming light by color and send it to three separate sensors, which tends to soften images. Onboard software sharpens the footage but also introduces halos and exaggerated edges. Worse, the small sensors put too much of the picture in focus, giving it a canned look. Cinematographers hate that; the ability to guide the viewer's eye by selectively blurring focal planes is one of their favorite techniques. "That's a storytelling tool," says Pierre de Lespinois, a producer and director who spent three weeks in April filming a feature in the Mojave Desert with two Red Ones. "In HD, what's right in front of the lens and what's 20 feet away are both sharp, so the image looks flat."
To compete with celluloid, a digital cine-camera would need an image sensor identical in size and shape to a single frame of 35-mm motion picture film. Without that, the Red couldn't give filmmakers the control over depth of field, color saturation, tonality, and a half dozen other factors that 35-mm film provides.
You'll find that kind of full-frame sensor at the core of any high-end digital single-lens reflex camera. But they're designed to shoot no more than 10 frames per second. That's warp speed for still photographers but barely first gear for filmmakers. Movies are shot at a minimum of 24 frames per second, with some scenes topping out at 120 fps for slow-motion effects. The Red's sensor would have to do everything a DSLR sensor does—and do it significantly faster.
The camera also had to be able to record in the same bulky file format that DSLRs use—called raw. The format preserves picture data in essentially unprocessed form, which gives photographers more latitude to tweak images with software the way they once did in a darkroom. (Cinematographers do the same thing with 35-mm film, but it's a complicated, expensive process: The film must be scanned into digital to be manipulated, then converted back to analog for projection.) Since a movie is just a long sequence of still pictures, using the raw format presented bandwidth and data-storage problems. A two-hour feature could run up to 7 terabytes. The Red engineers built a workaround, a lossless compression codec they call Redcode Raw.
Finally, in August 2006, Jannard's team flipped the switch on Red's first prototype, codenamed Frankie. It wasn't really a camera at all, just a mechanical test bed containing the new sensor. "Our whole business was predicated on this sensor," Jannard says. "If it didn't work, we'd be cooked. When it did, it was like giving birth and counting all the fingers and toes to make sure everything was there. It was phenomenal. Everybody went nuts." Schilowitz remembers that moment, which camera makers call first light, as mind-blowing: "Everyone started screaming like little kids, 'First light! First light! It's alive!' The thing actually worked."
Two weeks later, at an industry event in Amsterdam, Jannard showed test footage taken with Frankie—a clip of two perky women in '50s garb chugging milk from glass bottles—on a 60-foot screen. "People were stunned," Schilowitz says. "They were standing around scratching their heads. That moment made a lot of people into believers." Filmmakers didn't care how the Red One worked, but they liked what they saw. "The Red camera is the closest thing to film I've seen," says Tristan Whitman, a cinematography lecturer at USC.
BY MARCH 2007, Red had assembled two additional prototypes, named Boris and Natasha. But now, with three weeks to go before NAB 2007, Jannard wanted new footage to show what the camera could do. He emailed Jackson, asking if the director could recommend a good cinematographer in Los Angeles to help create a Red promo spot. Not long after, Jackson telephoned. "Jim, why don't you fly down here to New Zealand, and I'll shoot the footage for you," he said.
"Don't tease me," Jannard replied.
"No, I'm serious," Jackson said. "Bring the cameras down."
Jannard packed up Boris and Natasha, still crude machines with no features other than a run/stop button and a shutter, and headed south. When he got to Wellington, Jackson was ready. "Peter had put together an army," Jannard says. "He was going to shoot a mini-movie to put the cameras through their paces, using them on helicopters and Steadicams, crawling on the ground with them—and I'm thinking, 'Oh my gosh, I just hope they keep working through the weekend.'" Boris and Natasha performed flawlessly. "We stayed at Peter's house, and he was just beaming because he was having so much fun." Jackson delivered his 12-minute featurette, titled Crossing the Line, the night before the NAB Show opened.
Jannard shows me the film at Red headquarters. His desk is in an open workspace that he shares with six staffers and his puppy. Next to his computer there's a box of the Montecristos he favors and a pinewood crate from Napa Valley Reserve, the world's most exclusive wine club. Members reportedly pay up to $145,000 to join, in exchange for which they can partake in grape harvests and create their own blends. There's something oddly honorable about a billionaire with insanely expensive taste in wine but no office.
I watch Crossing the Line on Jannard's 30-inch HD display while he stands behind me. The film, set on the front lines of World War I, alternates between aerial dogfights and bloody ground combat. The screen resolution is about half what it would be in a theater. Nevertheless, it's like looking through a window onto a battlefield. I can barely discern a single pixel. The detail is stupefying; the colors are rich and sensual
After NAB 2007, Jannard showed Crossing the Line at the Directors Guild in LA. "I rearranged my travel plans to be there," Soderbergh says. After he saw the film, he called Jannard.
"Jim, I'm all in. I have to shoot with this."
"OK, great," Jannard said. "But what does that mean?"
"I'm making two movies with Benicio del Toro. Come to my house, and we'll do a test. If it looks as good as what I saw in Peter's film, I want these cameras for my movies."
Soderbergh took two prototypes into the Spanish wilderness. "It felt like someone crawled inside my head when they designed the Red," he says. What impressed him most was the cameras' sturdiness. Movie sets are often a flurry of crashes and explosions, which can vibrate sensitive electronics, introducing visual noise known as microphonics into images. "A lot of cameras with electronics in them, if you fired a 50-caliber automatic weapon a few inches away—which we did—you'd get microphonics all over the place," Soderbergh says. "We beat the shit out of the Reds on the Che films, and they never skipped a beat."
Then there's the economics: The Red One sells for $17,500—almost 90 percent less than its nearest HD competitor. The savings are even greater relative to a conventional film camera. Not that anyone buys those; filmmakers rent them, usually from Panavision, an industry stalwart in Woodland Hills, California. Panavision doesn't publicize its rates, but a Panavision New Zealand rental catalog quotes $25,296 for a four-week shoot—more than the cost of purchasing a Red. "It's clearly the future of cinematography," Peter Hyams says. "You can buy this camera. You can own it. That's why people are excited."
Even so, traditionalists cling to film's reliability. Film is tangible. Hard drives crash; files get corrupted. "You put film in a can and stick it on a shelf, and it costs $1,000 a year to store," says Stephen Lighthill, who teaches cinematography at the American Film Institute. "With a project that starts as data, you have it on a hard drive, which has to be nursed and upgraded. It's an electronic, mechanical device that can't be left unplugged." Preserving a 4K digital master of a feature film would cost $12,000 a year, according to a report by the Academy of Motion Picture Arts and Sciences. And that doesn't address the reliability of the camera itself. "In the slammin', jammin' world of production, you want a really tough machine that takes very simple approaches to problems," Lighthill says. "I'm not sure Red is the way to go. It's a supercomputer with a lens on it."
Proponents dismiss such criticism as Luddite drivel. "Hollywood is just used to shooting on film," says Bengt Jan Jönsson, a cinematographer on the Fox TV show Bones. "Honestly, if you proposed the film work-flow today, you'd be taken to the city square and hung. Imagine I told you we're going to shoot on super expensive cameras, using rolls of celluloid made in China that are a one-time-use product susceptible to scratches and that can't be exposed to light. And you can't even be sure you got the image until they're developed. And you have to dip them in a special fluid that can ruin them if it's mixed wrong. People would think I was crazy."
AS REDS INFILTRATE Hollywood, the typical filmgoer might not notice much difference at first. After all, once they're projected onto a cineplex screen, movies shot with Jannard's camera will look like the analog movies audiences are used to. But the camera's ease of use and lower cost are sure to change the industry. "There's talent on the streets, kids with ideas who have stories to tell and never get a chance," Jannard says. "Up to now, they've been limited to tools that confine their stories to YouTube." Access to this kind of tech will make it easier for aspiring auteurs to break in and could ultimately expand the range and variety of films that get made.
Of course, most theaters still show movies the old-fashioned way, running analog film in front of a bright light. For now, pictures shot with the Red must be transferred to celluloid for distribution. It's a cumbersome system: A full-length feature might take as many as five (heavy, expensive to print) reels. A major release goes to at least 3,500 theaters. Plus, the celluloid stock gets damaged and dirty and has to be sent in for cleaning and repair after every few dozen screenings.
Luckily, analog projection seems to be on the way out. In March, four big Hollywood studios announced plans to retrofit 10,000 screens—about a quarter of the US total—for digital projection at 2K. Movies shot with Red's 4K camera will look every bit as good as those shot on film, and they'll all be ads for the company's next camera, the Epic, with more than 5,000 lines of resolution. That's a knockout pixel punch. I ask Jannard if Red plans to develop a 4K projector or perhaps even a 5K that it would market to theater owners. He's cagey. "I will say that the future of motion-capture will be digital," he says, "and I think you can extend that to say the future of presentation will be digital."
Jannard is doing his best to fulfill that prophecy. He spends nights on the company's Internet user forums sifting through customer feedback, answering technical questions, and addressing rumors about upcoming products. "I'm passionate about this because I'm building the camera I've always wanted to shoot with," he says. "When my grandkids and great-grandkids look back, they're going to say I was a camera builder. I did handgrips and then goggles and then sunglasses to prepare myself. But cameras are magic."
Copyright © Michael Behar. All Rights Reserved.