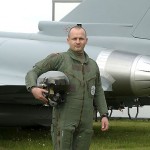 Defying Gravity Download PDF
A small Swiss firm develops an innovative G suit for fighter pilots.
Col. Hank Morrow, commander of the 149th Fighter Wing of the Texas Air National Guard, has been flying for more than two decades. In that time, he has seen aircraft push the high-performance envelope: planes today are so fast and nimble that standard evasive maneuvers can add nine times the weight of gravity, or nine g's, to the mass of a pilot's body. That amount of force causes fatigue, blackouts, even death as gravity drives blood and oxygen from the brain, lungs and heart. G suits are supposed to protect pilots by filling with compressed air and squeezing the lower extremities to shove bodily fluids upward. Yet G-suit technology has stagnated for almost half a century, while rapid innovations in aircraft design have put many pilots at the mercy of their machines. All that could change if the air force chooses to outfit its aviators with a revolutionary liquid-filled G suit called the Libelle.
The suit is the brainchild of Andreas Reinhard, a former Swiss Air Force fighter pilot turned inventor and founder of Life Support Systems, a company he launched in 1996 to develop the Libelle. Instead of using air, the Libelle forms a liquid barrier around the pilot, much like a baby is protected in the womb. Morrow recently tested the suit at Edwards Air Force Base in California and was so ecstatic with the results that he told the members of the Libelle team he would write them a personal check on the spot if they would sell him one. Continue reading →