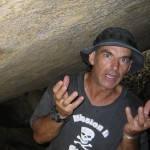 Treasure Quest Download PDF
For more than a decade, American Robert Graf has combed the waters of a Seychelles island for a multimillion-dollar booty stashed by pirates nearly 300 years ago.
I've been treading water in a small, man-made lagoon for about half an hour, waiting for Robert Graf to surface. The 49-year-old American treasure hunter has cordoned off this rectangular swath of Indian Ocean in the Seychelles, and now he's somewhere 25 feet below, chiseling off chunks of granite and sucking up sand and grit with a four-inch-wide vacuum dredge. He's searching for the entrance to a stone vault that he believes contains a pirate hoard—part of what many consider the largest high-seas heist in history—stashed nearly 300 years ago. Back then, locals speculate, the area where we're swimming was dry land, the sea held back by a sand berm later destroyed in a storm.
Graf, a former U.S. Air Force technical instructor, breathes through a 50-foot-long bright pink hose attached to an air tank on shore. He wears a face mask, a tattered wet suit and 26 pounds of lead weight strapped to his waist. Every so often I dunk my head, peering through my mask into impossibly blue water. At one point a faint shadow glides over the bottom, then vanishes into a dark ravine. Moments later there's a creepy scraping sound, like someone prying open the lid of a sarcophagus. Continue reading →