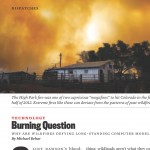 Burning Question Download PDF
Why are wildfires defying long-standing computer models? 
Clint Dawson's bloodshot eyes evince his 14th straight day at the High Park fire's Incident Command Post, in Fort Collins, Colorado. It is late June, and the fire has already charred 70,000 acres. Dawson's job is to guess what it will do next. As a fire-behavior analyst, or FBAN, he runs modeling software that predicts where a fire might be headed. When fires behave themselves, such models work well. But wildfires are getting bigger: their average size has tripled since the 1980s. And bigger fires are more complex than smaller ones, presenting more challenges for forecasting software. "We are definitely tweaking our models more on this fire than usual," Dawson tells me.
Since the 1970s, modeling programs such as Farsite, FlamMap, and FSPro have become an essential part of fighting wildfires. The models, which are calibrated against how past fires have typically progressed, consider vegetation type; topography (flames prefer to travel uphill); a fire's perimeter; and air temperature, wind, and humidity. They then predict where a fire will go, and when. Continue reading →