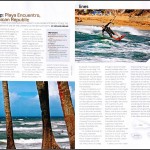 Playa Encuentro, Dominican Republic Download PDF
Head a scant three miles downwind of Cabarete's renowned Kite Beach to ride the uncrowded breaks at one of the Caribbean's premier surf spots.
Playa Encuentro is a miraculous kite spot I discovered almost by accident. Three years ago, I had arrived in Cabarete, the famed kite mecca of the Dominican Republic, with a spanking-new directional board and no clue how to ride it. A local kite instructor, whose name is Francis Gil and teaches at Laurel Eastman Kiteboarding, had watched me struggle my entire session to stay upwind in waist-high surf.
Cabarete is situated on the verdant North Coast of the Dominican Republic, where easterly trades blow year-round but peak in summer, when blistering thermals convect off the country's interior mountains, boosting wind speeds by 10-plus knots. The mountains also shield the North Coast from the brunt of hurricanes that, once offshore, deliver world-class swell to Cabarete and neighboring surf spots.
After what felt like at least 350 attempts, I executed a few strapless jibes and caught my first waves on a directional. But riding down the line always meant slogging back upwind, a task I had yet to master on a surfboard. When I complained to Gil, he had a simple suggestion: "Ride downwind." When I asked to where, he told me about Encuentro and its four acclaimed reefbreaks: Coco Pipe, The Destroyer, The Left, and The Right.
This year, when I returned to the Dominican Republic for two weeks in June, things had changed. The airport in Puerto Plata was undergoing a much-needed facelift; in Cabarete, several swanky resorts and upscale bistros had sprung up; roads had been paved; and stylish boutiques now populated the town's main drag. The place was bustling from an economy seeing double-digit growth. Tourism dollars had transformed the region into one of the best destination kiteboarding locales in the Caribbean.
Today in Cabarete you'll find beachside lockers for storing gear and beachside bars for midday mojitos. There's no need for a rental car because taxis are cheap and plentiful, and a plethora of accommodations are located stumbling distance from all the main launches. It's possible to show up with nothing but boardshorts and rent all necessary gear—choosing from every major brand—at one of more than a dozen reputable kiteboarding centers.
The notable downside to this vastly improved infrastructure is its allure to kiters, whose numbers in Cabarete Bay are on the rise. Not to worry: It's large enough to accommodate several hundred riders (I've counted at least 175 on the busiest afternoons). But what about Encuentro? Its narrow beach and finite breaks could scarcely handle more than eight or 10 kiters without putting the squeeze on. Had crowds overrun my secret spot? To find out, I ask Joanna Dee, head of guest services for Laurel Eastman Kiteboarding, to arrange a taxi pickup at Encuentro. My wife, Ashley, and I launch at Eastman's place on Bozo Beach, with a plan to meet the cab driver downwind in two hours. It's a hot, dry afternoon, and that translates to a thermal supernova. A 25-knot sideshore wind blows so steadily that an eight-meter is ample sail, particularly since I'm on a 5'10" quad-fin directional. Ashley, on her six-meter kite and custom twin-tip, is lit, too.
It takes us an hour—playfully jousting through a succession of breaks—to reach Encuentro, where there are only three other kiters. After 15 minutes, they pack it up and we get the place to ourselves. The swell is gentle, even though a few head-high sets roll through during our session. On the shore, coconut-laden palms slouch lazily over a belt of golden sand. I watch a local boy straddle his mare bareback and then shepherd a small equine herd to a nearby stable. But the waves are too good to get sidetracked by the idyllic backdrop. I need to practice in the clean wind and pliable surf that makes Encuentro a prime place to hone wave-riding skills.
Back in Cabarete, I run into pro-kiter Cameron Dietrich, who rides strapless better than most people can walk. Dietrich lives in Cabarete part-time. He agrees to downwind with us to Encuentro and offers some tips on kiting the waves. When we meet up the next day, the wind is ripping again. There's also a tropical depression a few hundred miles north that slings a six-foot swell our way. Keeping up with Dietrich is like trying to follow a jackrabbit through the bush. It takes us just 30 minutes to reach Encuentro, where the surf is substantially larger than our prior day's visit. I try to match Dietrich wave-for-wave, an effort that doesn't last long. Tapped out, I head for shore. On a low-slung bluff above the beach there is a new resort. It seems the development boom has reached Encuentro as well. But I'm not complaining. I order a beer, derig my gear on a plush lawn, and then hop into the hotel's hot tub for a quick soak—not a bad way to end a glorious day kiting in the surf.
Copyright © Michael Behar. All Rights Reserved.