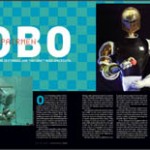 Robo Repairmen Download PDF
It's getting harder to find good help these days. So these space engineers built their own.
On a sweltering summer afternoon, Dave Akin, an associate professor of aerospace engineering at the University of Maryland, heaves open a thick steel door and directs me to a stairwell inside a red brick monolith called the Neutral Buoyancy Research Facility, part of the school's Space Systems Laboratory in College Park. The building houses a 367,000-gallon cylindrical fiberglass tank of sparkling blue water used to conduct experiments under weightless conditions, or as close as we can get to weightlessness here on terra firma.
Akin is clad in sandals, cargo shorts, and a souvenir T-shirt from NASA's nearby Goddard Space Flight Center that's stained with barbecue sauce from a school picnic he attended at lunch. Plump, bald, and bespectacled, he greets me with a husky handshake and a warm smile, then bounces up five flights of stairs to the top-floor control room, where a team of grad students is about to lower the Ranger space robot into the water. Continue reading →