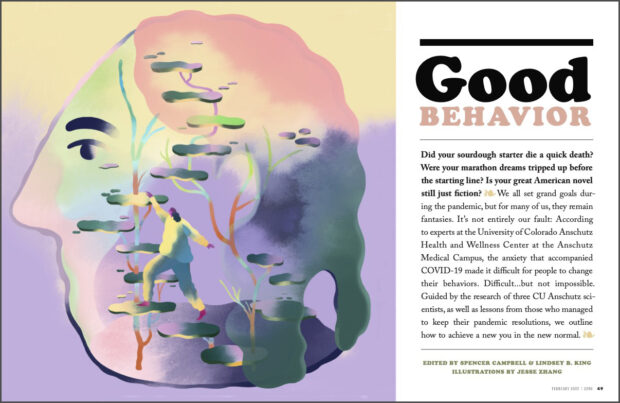 Family Time, Reinvented Download PDF
Schools closed for COVID-19 on Friday, March 13, 2020. "Enjoy an extended spring break," the official district email communiqué advised us. With the weekend upon us, my wife, an attorney, and I didn't grasp the implications until Monday. I had two impending writing deadlines, and she was steeped in litigation matters. What at first had seemed like a rare gift—bonus hours with our kids—quickly morphed into what felt like a theft of time. How could we possibly work a normal day with our kids at home? Because COVID-19 had vaporized our childcare, we resorted to iPads as babysitters. While the kids binged on ninja anime and Dude Perfect, I slammed through my assignments. A week later, I got COVID-19.
It was an inauspicious start to a global pandemic. As spring inched toward summer, though, we knew we needed to make big decisions. Two full-time working parents without childcare was unsustainable. So I quit, a decision that came easily because we had that luxury—and because two decades of hustling for free- lance gigs had left me feeling uninspired. A pandemic sabbatical to be a stay-at-home dad felt like a prudent career move.
With a sudden windfall of family time, making it purposeful became our priority. First, we ditched the iPads after remote school ended in May. In early June, the whole family departed for Utah for seven days of camp- ing near Capitol Reef National Park. But when the prospect of returning to a 9-to-5 workday routine loomed, we added another week to our trip and began devising a scheme to keep our kids in the screen-free outdoors for at least the next few months.
After establishing a pod with another family whose kids were similar ages as ours, we camped and backpacked together throughout Colorado for much of the summer. Life on the road was gloriously simple and also safer. In Utah, for example, we were boondocking on a scarcely populated plateau situated in a county that had, at that point, recorded zero cases of the virus. By early September, our family had spent more than 40 days off the grid. My wife worked remotelyfrom our five-year-old pop-up camper, seeking out Wi-Fi in nearby towns when necessary. When our daughter asked me, "Dad, can we do this every summer?" I knew we'd succeeded in creating something special that our kids would remember long after the virus relents.
Copyright © Michael Behar. All Rights Reserved.