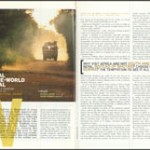 My Radical Round-the-World Sabbatical Download PDF
Learn the ropes from a traveler who took 15 months off to roam the planet.

While Malawi's principal highway is illustrated on maps as a proud red swath, its northern half—unpaved and deeply rutted—is more like a crudely graded horse trail. This hasn't stopped our wild-eyed driver from achieving near-freeway speeds. At daybreak, he picks up my wife, Jackie, and me near Chitimba, a tiny village beside Lake Malawi where we'd been thumbing a ride. Suddenly we're soaring through lush landscapes, the tiniest bumps pitching us airborne. Jackie and I are enduring this perilous trip while clutching plastic jump seats in the back end of a Mitsubishi SUV, watching the road recede. It's only the first part of a day's journey that will include several hitched rides, a two-mile walk in the midday sun, and four sweltering hours packed into a Toyota minivan with 22 passengers, one of whom sits on my lap for at least half the ride, and another to my left who has sustained some sort of head injury that no one seems to notice. The collar of his white shirt is saturated with blood trickling from a wound above his hairline.
Our plan is to reach Tanzania by evening, and oddly, after 275 days on the road—three-quarters of the way through a planetary expedition to 32 countries and four continents—the 15-hour, 150-mile trip isn't so tough. In fact, during our bone-jarring push to the border, we one-up each other with equally abominable travel tales.
"Remember Mongolia?" says Jackie as we lurch to dodge an elderly bicyclist. "We rode horseback through pelting rain for days on wooden saddles?"
"You're forgetting Laos," I reply. "Five hours sitting on plastic stools in the center aisle of an ancient bus."
Despite a handful of exceptionally miserable incidents, however, our yearlong journey around the world isn't a daily endurance test of wits, patience, and physical trauma. Surprisingly, the surfeit of discomforts related to travel in the developing world soon goes unnoticed. They're intrinsic to movement and are almost always short-lived. And as the months pass, we get better at guessing which segments are most likely to yield bruised butts and frayed nerves, then pad the hard travel with a spell on a tropical isle or a few days in a mountain lodge.
Excessive? Perhaps. After a harried six weeks in India, we took a month to sample the glorious beaches in the Maldives and Mauritius. Required rest, really, for the next leg was in Africa, a three-month, 2,500-mile overland trek from Swakopmund, on Namibia's desolate Atlantic coast, to Dar es Salaam, the gritty Tanzanian capital.
So why visit Africa and not South America? Trek in Nepal instead of Bhutan? Choose Cambodia over Burma? The temptation to see it all is irresistible. But money and time are inescapable constrictors. While a year affords endless possibilities, it's astonishing how quickly our bare-bones I've-Always-Wanted-To-Go-There list consumed weeks, then months, of the trip. After some debate, we agreed on several must-sees: a river trek in Laos, Cambodia's Angkor Wat, anywhere in Mongolia, the Tibetan-Nepalese Friendship Highway, India's Rajasthan, the Rwandan mountain gorillas, and a walking safari in Zambia, Kenya's Masai Mara, and Prague.
Some, like Mongolia, we chose for the uncharted appeal, others, such as the Masai Mara, because Out of Africa tops Jackie's favorite-film list. Mystique and romance drew us to Angkor Wat. A walking safari in Zambia would mean a few days' respite from weeks confined to a minivan bouncing over Africa's merciless roads. And then there were the legends: Renowned beer lured us to Prague; renowned hospitality attracted us to Laos.
Before we could start plotting the minutiae, however, we had to pick a heading: east or west? This was a critical detail, as the wrong choice could have deposited us in the Gobi during raging seasonal sandstorms or stranded us in the bush just when rains breached the Zambezi's banks. There were far too many scheduling variables to place us in every country at the seasonally opportune moment. So instead we stuck to a simple strategy: Follow the sun—travel the Northern Hemisphere between April and November, dipping south of the equator when things turn cold.
To book flights, we determined major stopovers, which included Kuala Lumpur, Hanoi, Bangkok, Beijing, Bombay, Cape Town, Casablanca, and London, but we stopped short of prescribing our day-to-day activities. There would be ample time for that later. Several travel agents specialize in around-the-world itineraries and are experts at foreseeing logistical snags and finding the less-obvious deals. Try San Francisco-based Air Treks (www.airtreks.com); our agent there knew that intra-Africa flights are outrageously priced. So he booked us on Gulf Air, with a detour to Abu Dhabi, to get us from Nairobi to Casablanca, which slashed about $1,400 off our combined airfares.
It took three weeks of phone calls, e-mails, and face-to-face meetings with our agent to finalize the itinerary. Then, a few days later, the FedEx envelope arrived: Inside was an inch-thick stack of airline tickets. Our giddy anticipation turned to terror. Were we insane? Until now, we had ignored well-traveled friends who told us we'd be robbed in India if we rode the trains, that we'd contract malaria because our route transversed Central Africa during peak monsoon season, and that bottled water, even with a safety-sealed cap, is polluted and toxic. Except for a single bout with intestinal bugs in Morocco, however, the doomsayers were wrong.
To be sure, staying healthy, eating well, and sticking to a budget wasn't without its hiccups. But faithfully keeping tabs on daily and monthly expenditures averted bankruptcy, and heeding culinary instincts (just because Laotian men gulp down rice liquor infused with bull testicles doesn't mean it's safe) prevented visits to the doctor.
Unexpectedly, the toughest aspects of long-term travel began to surface two months into our journey, once we'd finally eased into a casual, carefree, and ever-changing existence. Gazing from a vista on China's Great Wall, we watched wisps of fog slither up the forested valleys and creep over the ancient stone like ghostly fingers. It was late afternoon, the end of a perfect day walking the peaceful ruins, and suddenly I was heaving with fear.
Were we idiotic to uproot our lives, abandon our responsibilities, and convince ourselves that a year away won't derail us for decades? It was a troubling thought. Of course, my momentary descent into moral interrogation was silenced minutes later when we opted for one of the more bizarre descents from the Great Wall: a nonstop, ten-minute, 1,500-vertical-foot plunge in a plastic street luge that dumped us at the parking lot.
Now, months later, speeding through Malawi in a seemingly out-of-control SUV, a similar foreboding sneaks into my thoughts. Nah, I conclude as our vehicle slams into a pothole, then fishtails sideways until another dip shoves us headlong into the ruts—I wouldn't change a thing.
TEN OF THE GREATEST SHOWS ON EARTH
1. (MAY) Malaysia: Batang Ai National Park, Sarawak
After paddling 18 miles up five river branches from the starting point at Batang Ai reservoir, we spend three nights with the indigenous Iban. Once headhunters, now mostly farmers, their enthusiasm for tuak (rice wine) and dancing distracts us from leeches and killer centipedes. Borneo Adventure arranges four-day trips upriver with overnight stays in a longhouse ($726 for two; 011-60-82-245175, www.borneoadventure.com).
2. (JULY) Vietnam: Hoi An
Much of this seaside village's charm comes from the early 19th-century colonial architecture. It's also the best place in Southeast Asia to buy custom-made clothes. My Hugo Boss knockoff suit cost less than $100. When there's a full moon, the town cuts off the electricity and fires up lanterns and candles. Thanh Binh II Hotel (doubles, $15; 011-84-510-863715; e-mail, [email protected]); Thu Thúy Tailor Fashion (011-84-510-861699; e-mail, [email protected]).
3. (AUGUST) Mongolia: Khövsgöl Nuur National Park
Since horseback is the primary means of transport, why not head out on a two-week trek through the 6,000-foot peaks of northern Mongolia's Khoridol Saridag Nuruu range? Jackie and I live on ibuprofen, but camping in the utter serenity (we see no other humans for seven days) is worth the sore rumps. Gana's Guest House (doubles, $8; 011-976-1-367343; e-mail, [email protected]) in Ulan Bator arranges a jeep for the three-day drive to Khatgal. Once there, we go straight to the Nature Door Guest House (price $5). The owner, Bayardalai, will also arrange the horse trek and hire a guide ($20 per day).
4. (NOVEMBER) India: Pushkar Camel Fair
In mid-November, camel traders from all over India arrive in Pushkar, their humped herds adorned with beads, braids, face paint, and mascara. We wander atop rolling dunes through thousands of camels. We're gouged with higher rates for booking a hotel in advance, but are rewarded with a clean room at the Hotel White House (doubles, $50; 011-91-145-72163).
5. (DECEMBER) Mauritius: Indian Ocean
Three weeks of beach time, world-class scuba diving, hikes through Black River Gorges National Park, and delectable French-Indian cuisine. We're downright giddy while dining on octopus masalé in an air-conditioned creole bistro in Port Louis. Skip the Euro-resorts and rent a flat (www.vacationvillas.net/mauritius/holidayrentals.html). A car is a must. Rent a convertible Suzuki Samurai ($140 per week) from one of the many ocean-activities shops along Grand Baie's Route Royal.
6. (DECEMBER) Namibia: Road Trip
In Windhoek we rent an Isuzu crew-cab pickup and camping gear, then set off on a road trip that covers 3,000 miles in two weeks. Gravel and asphalt roads are smooth; gas stations are plentiful. But this is still Africa. On some nights, curious elephants mosey into our campsite for a sniff. Rivendell Guesthouse is the haven in Windhoek. The immaculate ranchette has nine rooms (doubles, $20), some of which have sliding glass doors opening to the pool. The staff will give you a list of rental car companies, outfitters, and places to find camping gear (011-264-61-250006; e-mail, [email protected]).
7. (FEBRUARY) Rwanda: Mountain Gorillas in Parc Nacional des Volcans
Nothing compares to crouching nose to nose with a 600-pound silverback. After decades of ethnic strife, Rwanda isn't exactly a tourist hot spot—our day with the gorillas is just us and our guides and escorts. Reservations for the one-day excursion are required, and permits cost $250 per person, but include a guide and armed military escorts. Call the Office Rwandais du Tourisme et des Parcs Nationaux (011-250-576-514; e-mail, [email protected]) in Kigali.
8. (APRIL) Tunisia: Bardo Museum
Crossing the Maghreb means a layover in Tunis, where we discover the Bardo Museum. Its collection of Carthaginian, Roman, early Christian, and Arab-Islamic mosaics is the best in the world. The dazzling works—fashioned from millions of colored tiles—fill entire rooms. In Tunis, take Line 4 of the Métro Léger tram to the Le Bardo stop. From there it's a walk on Rue Mongi Slim to the museum. Entrance fee: $3.
9. (MAY) Czech Republic: Prague Spring International Music Festival
Two reasons to love the late-May Prague Spring Festival: A dose of refined European culture is a counterbalance to a year of hauling dusty packs, and where else can you take in a two-hour symphony for less than $10? Prague Spring Festival (011-420-2-573-12547, www.festival.cz); nab seats for several shows at Ticketpro (www.ticketpro.cz).
10. (JUNE) Turkey: Blue Voyage on the Aegean Sea
We sailed the stunning Turkish coastline aboard a traditional wooden gullet. From Fethiye, our captain headed north, navigating pristine inlets to find uninhabited beaches and Roman ruins. Note to self: Next time, splurge and charter the entire boat. Four days with 14 strangers makes for interesting cruising. Commodore Tour in Istanbul ($130 per person; 011-90-212-512-40-26, www.commodoretour.com).
RULES OF THE ROAD
1. Leave the backpack at home: In over a year, we hoisted the beasts on our backs hardly a dozen times. Next time, rent a pack in Nepal, and stick to the wheelie bags with hideaway straps, such as Swiss Army's 4,650-cubic-inch Trek Pack Plus (www.swissarmy.com), which comes with a built-in daypack.
2. Americans aren't as despised as CNN says: Aside from unsolicited criticism in the Maldives, Morocco, and Tunisia (all Muslim countries), our nationality spurred curiosity and jump-started friendships. In one Zambian village, three men launched into an exhaustive explanation of the American electoral process.
3. Don't get stuck searching for a room after dark: Many cities lack clearly marked addresses and visible (or English) street signs. It's fine to shop around for a charming bungalow when the sun's up, but book ahead if arriving late.
4. The fastest route isn't always the most fun: Flight time from Beijing to Ulan Bator is two hours; the train takes 36. Both cost nearly the same. What to choose? We booked a cabin on the Trans-Mongolian Railway. Waking to the sunrise over the Gobi was worth the extra 34 hours.
5. Travel clothing does not make traveling easier: In hot, humid climates, rayon and polyester—the material of choice for many travel duds—is suffocating and a bitch to clean. We arrived in Kuala Lumpur armed with high-tech "wrinkleproof" garb. Within a week, we had tossed it and had gone all-cotton.
6. Rethink that overnight bus excursion: Slumbering peacefully on a bus doing 70 mph along twisting mountain highways in Turkey is absurd. The reclining seats don't exactly recline, and if we managed to doze off, it was only for a few minutes, as the bus stopped so that attendants could serve hard-boiled eggs and weak tea to bewildered passengers.
7. Make train reservations in advance: Throughout India, we found travelers stuck for days, waiting to secure train reservations. Our first day there, we skipped sightseeing and went to the railway station. By the end of the day we¹d reconciled a complex timetable with our six-week stay in India, purchasing reserved seats on a multitude of routes.
8. Reconsider Tibet: The Chinese government canned all private tour operators and now forces travelers to pay outrageous permit fees and hire "official" drivers to venture beyond Lhasa. We spent $1,000 to get from Lhasa to the Nepalese border on the so-called Friendship Highway.
9. Put the stamps on the postcard before you write: Advice from a friend back home, after he could barely read one of my postcards, due to the many stamps I had to plaster atop my scribble.
10. Leave the bizarre hygienic customs to the locals: Wild-eyed men wandered the Taj Mahal offering to scour our ears with a miniature device shaped like a melon-baller. Shortly thereafter, we met a Canadian backpacker suffering from an ear infection he'd acquired from a thorough scrubbing.
HEALTH MATTERS
Before you go: Most doctors aren't up on which countries demand proof of cholera and yellow fever vaccinations. Three months before our departure date, my physician directed me to a Web site run by the Centers for Disease Control and Prevention (www.cdc.gov/travel/), an impressively up-to-date repository of travel-health information.
? Critical vaccinations: Tetanus, diphtheria, tuberculosis, typhoid, yellow fever, cholera, hepatitis A, poliomyelitis (polio)
? Optional shots: Hepatitis, Japanese B encephalitis, meningococcal meningitis, rabies
On the road: Common sense and our first-aid kit were the only barriers between us and one of the most petrifying experiences on the road: a visit to the doctor. Language obstacles and antiquated procedures are a big inspiration for self-care. A few key rules:
1. Carry a well-stocked medical kit containing the usual pills and salves plus the following: Cipro, a wonder antibiotic; REI Jungle Juice, with 95 percent DEET; rehydration salts; Benadryl, an antihistamine that also kills the sting from insect bites; digital thermometer (some airlines don't permit the mercury kind); eight 1cc syringes, for emergency injections in areas where needles are recycled; lactobacillus acidophilus and bifidus capsules, the so-called good intestinal bacteria to keep your stomach defenses high.
2. Never eat street food.
3. A swipe of Tiger Balm (a Vaseline-like analgesic salve) under the nose keeps the body odor on cozy trains and buses at bay.
4. Popping a Lariam or Malarone is no sure bet against malaria. Slather on bug repellent, cover up before dusk, and pray.
5. For reef cuts, skip remedies such as Neosporin. To kill off the bacteria, sprinkle the wound with antibiotic powder.
6. Can't stomach getting sick? Stay home.
THE BUDGET
The first question people usually asked upon our return was: "How much did you spend?" The easy answer: about $90 a day per person, including lodging, food, guidebooks, shopping, ground transportation, and airfare. The grand total adds up to $33,000 per person for the year, sticking mostly to travel in developing countries and staying in midrange hotels, albeit providing for periodic splurges, such as a private safari. Also incorporated into the total price tag were our moving, storage, and post-travel rent. A typical per-person budget looks something like this:
Airfare: $5,000 – Transcontinental flights, international legs, short hops. In all, we took more than 30 flights. Overland transport $5,300 For us, this included trains, rental cars, scooters, taxis, ferries, jeeps, horses, matatus, rickshaws, kayaks, cyclos, speedboats, and camels.
Accommodations: $9,700 – We slept in hotels, B&Bs, guest houses, inns, pensions, gers, tents, and under the open sky.
Food: $6,500 – Higher than expected because we avoided street food to lessen health risks. (Others debate this notion, insisting that street fare is safer because it's prepared fresh.)
Souvenirs & Postage: $2,500 – Seek out treasures and ship them home before leaving each country. We sent 39 large parcels, and all arrived intact.
Clothing & Gear: $1,500 – We each packed three shirts, three pairs of socks, two pairs of pants, one swimsuit, a pair of shorts, sandals, and lightweight hiking boots to start with, then swapped old for new en route.
Extras: $2,500 – This covers expenses related to moving, storage, post-trip job searches, and unexpected costs, like jetting home from Casablanca for three days to attend a funeral.
Copyright © Michael Behar. All Rights Reserved.