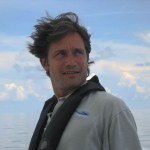 The Believers Download PDF
The future doesn't just happen. The next frontiers of adventure, fitness, gear, and sport are crafted by bold visionaries with world-changing dreams—and the minds and muscles to make them real. Behold the 25 all-star innovators leading us beyond tomorrow.
Fabien Cousteau: Underwater Auteur Fabien Cousteau is sunburned. It's a sultry August evening in Key Largo, Florida, and the 38-year-old grandson of history's preeminent undersea explorer arrives late for dinner, having just wrapped up a 13-hour day filming coral spawning. He walks across the parking lot of the Italian bistro and extends his hand to shake mine. His wispy brown hair is flecked with gray, a striking contrast to his crimson face. "I'm Fabien," he says. "I'll be right back." With that, he darts across the blacktop highway in his flip-flops and into a CVS pharmacy. Five minutes later, he returns clutching a jumbo bottle of aloe vera gel.
So it goes for Fabien, a skilled underwater filmmaker with ambitious plans for the First Family of the Deep. After about 12 years of career roaming—freelancing as a graphic designer and marketing eco-friendly products for Burlington, Vermont based Seventh Generation—he's looking to breathe new life into his clan's once pacesetting documentary juggernaut and shake up a public that he believes is inured to the rapidly declining health of the world's oceans. His strategy: Ditch the classic Cousteau marathon approach to filmmaking in favor of fast-moving production teams that can deftly churn out television specials defined by modern visual fireworks and high-paced editing.
If he can shake off his land legs—SPF 40, anybody?—he's well suited to the challenge. Fabien, who was raised in the States, took his first plunge with a scuba tank at four and began joining family filming expeditions aboard the Calypso at seven. In his teen years he regularly pitched in with documentary crews working for his father, Jacques's oldest son, Jean-Michel, and his grandfather. But while coming of age in flippers infused him with a profound connection to the sea, adulthood brought with it a craving to venture beyond his family ties. "After college, I went through a rebellious phase and thought I would do something different," says Fabien. This led him into a spate of business courses, the gig with Seventh Generation, and treks in Nepal and Africa.
His rediscovered commitment to the family legacy grew out of a gnawing sense of responsibility to the seascapes that were once his playgrounds. "I feel an urgency that maybe my grandfather didn't until his later years," he says, "to explore faster and faster before the oceans are destroyed so you can then relay the message to the general public and they can influence what's happening."
Though his surname provides a leg up in any film project, Fabien faces a ruthless broadcast landscape Jacques Cousteau never could have imagined. "When Jacques was on television, there were fewer than ten channels," points out Jean-Michel, 67. "In the 1970s, we'd have 35 million Americans watching all at once on ABC. That's unthinkable today, unless it's the Super Bowl."
Fabien also has to contend with a fractured Cousteau dynasty. In 1990, shortly after Jacques's first wife died, the 79-year-old patriarch confessed to a long affair with Francine Triplet, a Frenchwoman 40 years his junior. Jacques married her a year later, and Jean-Michel was swept aside as his stepmother took over his duties within the Cousteau Society. After Jacques died, in 1997, Francine was named president of the Society, which owns all commercial rights to the Cousteau name and his work; Jean-Michel agreed not to use "Cousteau" to promote his own ventures unless he directly precedes it with "Jean-Michel." And while he's released more than 70 of his own blue-chip TV documentaries, he's never attained Jacques's megastardom—a fact that's left the next-generation Cousteaus lingering backstage.
All this means that Fabien is going to have to succeed on his own passions and talent. It does appear that he has plenty of both. His emergence began in 2000, when he joined Jean-Michel on a filming expedition to South Africa. Two years later, National Geographic hired him to host a special on the legendary 1916 Jersey Shore shark attacks. This fall, Fabien completed his first self-produced project, Mind of a Demon, which debunks the notion that great white sharks are ruthless killing machines with a taste for humans. He enlisted Hollywood inventor Eddie Paul to build a 14.5-foot submarine that looks and swims like a great white. Dubbed Troy, it allowed Fabien to capture never-before-seen footage of the predators dueling for territory off Mexico's Pacific coast. Despite a budget of only $650,000, the one-hour film premiered on CBS in November—the first network airing of a Cousteau documentary in more than a decade.
He'll be onscreen again next spring in Ocean Adventures, Jean-Michel's new six-hour PBS series, which mixes celebration of undersea beauty with reporting on the plight of marine ecosystems. Fabien plays a starring role in the final two-hour episode, which explores America's national marine sanctuaries. The series also unites him for the first time on television with both his 33-year-old sister, Céline, and Jean-Michel; KQED Public Broadcasting in San Francisco, the project's co-producer, has dubbed it "the return of the Cousteaus." Fans drawn by that pitch might be surprised by the thumping soundtrack and reality-TV format, with crew members and sea critters getting equal camera time—a result, to some degree, of Fabien's preproduction suggestions and editing-room tinkering.
Blending environmental gospel with pop entertainment is tricky business, but Fabien argues that it's essential to jump-start ocean conservation in an era of 400 cable channels and Desperate Housewives. And if you're going to lure people into caring about the undersea world, it helps to roll out its biggest stars, which is why he's planning documentaries on blue whales and the giant squid. "The Cousteaus have always been a voice for the sea," he says. "This is what I've inherited: the responsibility of exploring and protecting the oceans."
David Gump: Space Pioneer
"I read a lot of science fictions when I was younger but had no intention of a career in space," says David Gump, 55, the cofounder and CEO of Reston, Virginia based Transformational Space Corporation, or t/Space. Today, the onetime railroad lobbyist is blazing a trail to the solar system with a low-cost plan to launch manned expeditions to the moon and Mars. His far-out proposition: a transportation chain that breaks the trip into stages. First, get astronauts into orbit—the most difficult part of any space voyage—with a reusable rocket-propelled capsule. Next, transfer to a parked spacecraft to make the haul to the moon or Mars.
By breaking from the one-ship model, Gump's strategy makes for a highly efficient R&D process—and saves a bundle. This past spring, his team unveiled a mock-up of their reusable crew-transfer vehicle, the CXV, which can carry four astronauts into orbit for a paltry $20 million per flight (a shuttle flight typically tops $1 billion). Starting in May, he ran a 23-percent-scale prototype through a partial test of the first stage of the launch sequence. (On an actual mission, a jet would release the CXV at 50,000 feet and rockets would then blast the vehicle into orbit.)
Though t/Space now needs to raise $400 million (likely in the form of a NASA contract) to complete a space-ready CXV, Gump is already one giant leap closer to his goal, having demonstrated the potential to get into orbit without breaking the bank. "Once you get off the planet," he notes, "you're halfway to anywhere in the solar system."
John Shroder: Glacier Watchdog
After 45 years of teaching, most tenured academics are thinking about going fishing. But Shroder, 66, a geography and geology prof at the University of Nebraska at Omaha, is too nervous to slow down. Since 1983, the rock maven has led nearly 20 scientific expeditions to the Himalayas. His frightening discovery? Thousands of the region's people are living under the threat of imminent global-warming-triggered floods. The danger is caused by "debuttressing," a process in which rising temperatures cause glaciers propping up near-vertical rock walls to melt until the walls collapse. The resulting domino effect can be lethal: Rockslides dam runoff, forming lakes that swell until they burst and unleash floods on communities downstream. To thwart such disasters, Shroder has set up a warning center in Omaha, where he studies satellite images and alerts Himalayan authorities to coming floods. He's also coordinating the first workshop between Indian and Pakistani geoscientists. In July, Shroder saw the scenario unfolding near Pakistan's 28,250-foot K2, where a glacial lake had begun to leak. He says, "Now we're just waiting for the other shoe to drop."
Pat Goodman: Aerial Innovator
Goodman, chief designer at Maui-based kiteboard manufacturer Cabrinha, was determined to help beginners master the sport's toughest skills: staying in control during big gusts and relaunching after wipeouts. This past July the 49-year-old unveiled the Crossbow system, which may do for kiteboarding what parabolics did for downhill skiing. The Crossbow pairs a nearly flat kite—more akin to a plane wing than to its U-shaped predecessors—with a rigging that dramatically boosts power and control: Nudge the steering bar outward to slam on the brakes. Tug on a rear line after a fall and the kite fires aloft like a rocket. "I wanted to be able to get my ten-year-old daughter into the sport," says Goodman. "Now I can—if she'd just stop windsurfing."
Copyright © Michael Behar. All Rights Reserved.