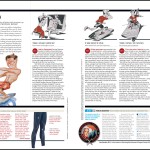 Training 2.0 Download PDF
Web-based coaches are out to hook everyday athletes with pumped-up new features. Should we take the bait?
Last summer I took up kiteboarding—a sport not unlike windsurfing, only the board is smaller and the sail is a parabolic kite you fly from 65-foot lines. After my first few sessions, I learned that (a.) head-to-toe lactic-acid paralysis strikes even those athletes whose primary concern is staying upright and (b.) if I wanted to survive a week-long kiting trip in Mexico, I needed help getting up to speed.
Online coaching sites have been around since the late 1990s, but until recently they've mainly targeted hard-core triathletes and marathoners looking to better their personal records. Today, however, sites such as GymAmerica.com and Carmichael Training Systems (www.trainright.com) are rolling out streaming video, personalized nutrition analysis, and increased "human contact" to lure average folks with tight schedules and diverse interests. For me, a travel junkie, going virtual is a no-brainer—the Web is everywhere, and so, too, will be my trainer. I just hope I won't be stuck with a one-size-fits-all program that keeps me on the losing end of a tug-of-war with my kite.
The Evaluation: Your trainer will Google you now
Step 1: I opt for Carmichael Training Systems, founded in 1999 by Chris Carmichael, who coached Lance Armstrong through six Tour de France victories. To begin, I plunk down the $149 monthly fee for a middle-tier program that offers unlimited interaction with a coach, fill out an eight-page questionnaire, and, 24 hours later, get a call from my new trainer.
Nick White, 26, is based at Carmichael headquarters, in Colorado Springs, Colorado, and has certifications from both the USA Triathlon and USA Track & Field governing bodies. Though that's all I'll ever learn about White, I find myself trusting him immediately: He's a triathlete and a competitive cyclist, while I have a hard time hanging on to my kite for more than 20 minutes straight.
White admits this is his first time designing a training regimen for kiteboarding and says that he's already Googled the sport to figure out which muscle groups to target. Googled? I recently Googled "ACL" looking for knee info and was linked to the Association for Computational Linguistics. Nevertheless, White's findings are impressive. As he rattles off muscle groups, I realize he's recounting in detail the anatomy of my post-kiting fatigue. "We should focus on your core section: abdominals, obliques, hip flexors, lower back," he says. "And since you travel a lot, I will build a whole program that you can take on the road."
The Routine: Wind sprints are just the beginning
Step 2: Online newcomers are expected to do an initial field test—either cycling, swimming, or running—so trainers can gauge their overall fitness and establish a benchmark against which to measure future gains. I decide to run, which requires an all-out sprint for eight minutes, something I haven't done since I was seven. Still, White says my distance covered (1.15 miles), average heart rate (158), and peak heart rate (184) are "very good" and e-mails me three color-coded spreadsheets. One is a set of core exercises, another details a 45-minute resistance workout, and the third is a strength-training routine for when I'm traveling and can't get to a gym. All told, for my requested six-day-a-week schedule, White specifies 46 different exercises. And while I'm a little uneasy about doing "power skips" in public, the variety is crucial for someone who bores as easily as I do.
Après workout, I go online and record my results: Did I complete as prescribed, modify, or skip my routine entirely? Weekly summaries keep tabs on my total resistance, strength, core-training, and running stats and generate a graph of my progress. When I'm not exactly sure how to do "high knees," I click to the Carmichael video collection for a narrated how-to. Carmichael, I realize, has successfully idiotproofed my training
The Fine-Tuning: No workout goes unnoticed
Step 3: "Every day when I start up my computer, it tells me who has logged in and when," White says. That explains why he sends an e-mail wondering about my inactivity during a recent trip to San Francisco. I fumble with an excuse about "tight deadlines" and a "backlog of work." He fires back with a pep talk: "Sometimes the hardest part is just standing up and telling yourself you need a break," he writes.
Later, White follows up with an e-mail informing me that he has tweaked the schedule to account for my slacking off. Doh! Other fine-tunings involve swapping a Monday weight workout for an aerobic session after I complain of muscle soreness, and integrating new leg exercises following a calf strain.
After only a month with Carmichael, I drop a couple of pounds and boost my overall strength enough that White has to bump up the intensity of my weight-training regime. As for kiteboarding, I recently rode a two-hour nonstop session—my longest yet by more than 65 minutes. The core exercises especially have given me an edge in my man-versus-kite showdowns. Mexico no longer looms, but beckons. And whether I need a workout adjustment or a well-timed pep talk in the last days leading up to my trip, White will always be just a keystroke away.
Copyright © Michael Behar. All Rights Reserved.