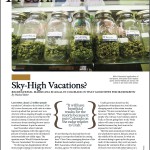 Sky-High Vacations? Download PDF
Recreational marijuana is legal in Colorado. Is that good news for ski resorts?
Last winter, about 1.3 million people traveled to Colorado to ski or board. All in all, it was a decent year, with visits to winter resorts up about four percent over 2012. And yet, with an ongoing drought, an aging skier population, and a recovering but still uneasy economy, Colorado ski towns and resorts are always trawling for new tactics to attract business. Is pot the answer?
Last November, when Colorado legalized marijuana (with the support of 55 percent of voters), any in the ski industry understandably saw dollar signs. The question arose: Would Colorado become "the new Amsterdam" for vacationers?
"In the long run, [legalization] will net more people coming to Colorado ski towns," contends Joyce Buford, executive director of the Colorado Association of Ski Towns. "When the dust settles, people will realize it's not that big of a deal and they're not going to corrupt their families by coming here." Chris Cares, managing director of the Boulder-based market research group ?RRC Associates, which specializes in ski tourism, agrees. "It will have beneficial results for the resorts because it puts Colorado on the radar—and certainly relative to Utah," he predicts.
Utah's governor doesn't see the legalization of marijuana in a rival ski state changing much in the winter tourism dynamic. "I'm not worried about it," says Gov. Gary Herbert. "There might be some people who will say, 'I can't smoke a joint in Utah, so I'm not going there to ski,' while others will come to our state with their families because they don't want to be exposed to it in Colorado."
The first state-licensed pot retail stores are scheduled to open in January, smack in the middle of the ski season. So what are?ski resorts doing to gear up for the green rush? At the moment, they won't say much. Requests for comments from a wide array of resorts were met with either silence or a suggestion to contact the U.S. Forest Service (USFS). Because nearly all ski mountains?in Colorado operate on USFS land—and because marijuana remains illegal under the federal Controlled Substances Act—resorts are deferring to Washington, D.C. Stephanie Sweeney, a marketing specialist for Copper Mountain, declined to comment except to point out, "Our resort is held to federal law when it comes to marijuana use."
Resorts have a legitimate reason to?wait for the smoke to clear. The level of federal interference with state legalization laws remains unclear, but in a significant announcement in August, the U.S. attorney general told the governors of Colorado?and Washington that the feds would not impede the establishment of each state's marijuana legalization initiatives. (The state of Washington also legalized marijuana?last fall—with the same approval margin?as Colorado. Washington is a ski state, but with approximately one in five skier visits nationwide tallied in Colorado, the industry is watching the impact on Colorado resorts.)
At the moment, there appears to be no formal USFS policy on the issue. Shelly Grail, a USFS ranger based in the Dillon Ranger District—home to Breckenridge, Keystone, and Arapahoe Basin—said, "This issue is still working itself out."
Any city or county in Colorado can choose to ban local pot stores under an opt-out provision in the new law. At press time, not one ski town had done so. "It all comes down to what kind of demographic these towns want to attract," Buford says. "For instance, Crested Butte is going to go for it because they've always had that kind of reputation. You're going to smell a lot more of it on the chairlifts." Conversely, she believes Winter Park, which markets itself to families, is likely to opt out.
Due to their more pot-friendly dispositions, Baby Boomers and older spring breakers (like alcohol, you must be 21 to purchase) will be among those most likely to choose Colorado over other destinations, predicts RRC's Cares. As for mountain towns and resorts, Cares is confident they won't let this competitive edge slip by, but they'll tread carefully. "It'll be like any other trend they evaluate from a marketing and advertising standpoint," he says. "They'll use ambiguous language and attempt to be very clever without saying it explicitly."
Buford goes further: "You're going to see some imaginative entrepreneurs who are going to turn this into an industry like wine tourism is in California." In fact, one startup, called My 420 Tours, is forging ahead already. After conducting his first sold-out weed-themed tour in April during World Cannabis Week in Denver, Matt Brown, My 420's founder, is planning winter itineraries organized around snow sports. "We have over 2,000 people on our waiting list," he says. Brown insists he'll exhort clients to stay levelheaded on the slopes. "But everything that happens from après-ski on is ripe for the picking."
Copyright © Michael Behar. All Rights Reserved.