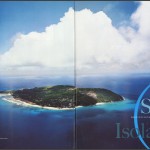 Splendid Isolation Download PDF
It's a 21st-century Robinson Crusoe fantasy: Your own private island—but with none of the inconvenience and discomfort of being a castaway.
The twin-prop De Havilland touches down on what looks like the ninth fairway at Pebble Beach—a runway of perfectly manicured grass. Greeting us on this emerald carpet are whirling throngs of seabirds: fairy terns, tok-toks, lesser noddies, and a few magpie robins—the seventh-rarest bird in the world. An attendant from Frégate Island Private, the sole property on this 740-acre speck of land in the Indian Ocean, meets us at the airstrip with fresh coconut milk and ice-cold terry-cloth face towels, then loads our bags onto a golf cart and takes me and my fiancée, Ashley, to our villa.
As we weave among almond trees and coco de mer palms, our driver tells us that some guests never leave their cottages. When we arrive at our 2,000-square-foot ocean-view compound, bordered on three sides by a ten-foot hedge of ferns and orchids, it's easy to see why. Continue reading →