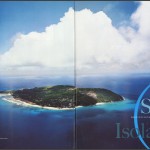 Splendid Isolation Download PDF
It's a 21st-century Robinson Crusoe fantasy: Your own private island—but with none of the inconvenience and discomfort of being a castaway.
The twin-prop De Havilland touches down on what looks like the ninth fairway at Pebble Beach—a runway of perfectly manicured grass. Greeting us on this emerald carpet are whirling throngs of seabirds: fairy terns, tok-toks, lesser noddies, and a few magpie robins—the seventh-rarest bird in the world. An attendant from Frégate Island Private, the sole property on this 740-acre speck of land in the Indian Ocean, meets us at the airstrip with fresh coconut milk and ice-cold terry-cloth face towels, then loads our bags onto a golf cart and takes me and my fiancée, Ashley, to our villa.
As we weave among almond trees and coco de mer palms, our driver tells us that some guests never leave their cottages. When we arrive at our 2,000-square-foot ocean-view compound, bordered on three sides by a ten-foot hedge of ferns and orchids, it's easy to see why.
In the center of a terraced garden, next to our private Jacuzzi, there's a plush daybed beneath a palm-frond gazebo. Inside the villa, the walls are covered in opulent mahogany, with vaulted ceilings of bamboo and merbau wood. There's an Italian-marble floor, two swank bathrooms, a built-in cocktail bar, a living room with a surround-sound DVD system, a wraparound deck, and a king-size four-poster bed. This is the most spectacular accommodation I've ever seen—and I've seen plenty. Four years ago I took a 15-month journey through 32 countries on four continents. The beach house I splurged on during a two-week stay on Thailand's Koh Phangan island now seems like the Unabomber shack.
In our compound on Frégate, unless a passing ship with a good set of binoculars happens to cruise by, we're utterly alone. Realizing this, we strip off our clothes and dance through the yard. I pop open a bottle of French chardonnay and we chug a couple of glasses. Let the pleasure mongering begin!
Scattered across the western Indian Ocean about 1,000 miles east of Africa and almost twice that distance from India, the Seychelles encompass an estimated 115 coralline and granitic islands with fishing rights to more than 500,000 square miles of ocean. Nearly half the islands remain uninhabited, and only 83 have been officially named. They're so isolated that 17th-century pirates used them as a place to stash stolen loot. More recently, Castaway was filmed on Praslin Island—not the 2000 film starring Tom Hanks, but a racy 1986 Nicholas Roeg production about a man who placed an ad for a bombshell to spend a year on an island with him. And the Seychelles have long been one of Sports Illustrated's favorite backdrops for its annual swimsuit issue. But as my Lonely Planet makes clear, this is not a place "for travelers with shallower pockets."
To keep out the riffraff, the Seychelles government has capped visitors at 200,000 per year and requires that all new hotel developments be in the four-or five-star category. Getting there isn't easy, either. There are no direct flights from the United States, and the main carrier from Europe is Air Seychelles, a nationally owned airline that charges $1,000 to $2,000 for a round-trip flight from London. And you can forget about last-minute bargain hunting. The handful of small but pricey hotels on Mahé, the largest and most populous island, fill up months in advance.
Here on Frégate, there are only 16 villas. But there may as well be just one. The first day of our stay, we find out island policy requires that guest identities remain secret. "Privacy is paramount here," declared South African Steve Hill, the resort's conservation manager, whom I met on my flight in.
To that end, every evening the marina staff stretch a cable across the entrance of the harbor to prevent any nosy boaters from making uninvited pit stops. The only yachts permitted into the marina are those belonging to guests or the island's owner, a billionaire German industrialist so plutocratically wealthy and security-minded that he demands complete anonymity. In fact, the only time we see any of the other guests is when they forgo customary room service and eat in one of two open-air "dining pavilions." These meetings are awkward, almost like walking into your shrink's waiting room and finding your boss coming out of his appointment. The protocol: Quickly avert our gaze and pretend it never happened.
According to Frégate's brochure, only one of the seven beaches, Anse Maquereau, is completely private. It's tucked between two 300-foot-high granite cliffs, accessible by a steep footpath. On a hook at the trailhead, explains the brochure, we'll find two wooden signs: BEACH OCCUPIED and BEACH VACANT. Hang the occupied sign and the entire beach is yours.
"Ooooooh, let's go there," I insist on our first day.
We hastily slather on sunscreen and set off toward Maquereau aboard our pre-assigned golf cart, but the wrong sign is already up.
"Damn!" I say. "Beach occupied."
Not to worry—there are plenty of other beaches to sample, and we happily discover that most are supplied with a cooler full of bottled water and a stack of fluffy towels, plush chaise lounges, and a two-way VHF radio for ordering "room" service from the kitchen. While these are not technically private, we never once have to share the pearly white sand and 85-degree turquoise water.
When we're not snoozing on the beach, we spend our days scuba-diving with nurse sharks and manta rays, cooling down in the infinity pool overlooking Anse Bambous beach, and cavorting with the local colony of more than 160 endangered giant Aldabra land tortoises. I also spend an afternoon sea-kayaking around the island—a two-hour circumnavigation that's punctuated with breaching dolphins.
Our après-beach hangout is the cliffside Pirates Bar. One afternoon, while playing Stump the Bartender (he wins, whipping up a tasty Brazilian caipirinha), we learn from Nasir, the gregarious Indian barkeep, that Frégate's managers have handpicked the island's staff from the finest resorts in the world. Nasir himself formerly worked at a five-star hotel in the United Arab Emirates; the executive chef is from an ultraluxe South African resort; the spa director was recruited from an Australian wellness center. This explains the laser-guided precision as we are served a candlelit dinner on the beach, our waiter magically appearing from the darkness to refill our wine.
One morning, Ashley suggests that we book a session at Frégate's newly opened Rock Spa, perched on a craggy summit with a 360-degree view of the island, the perfect place to watch the sunset while being plied with indigenous tonics made from ylang ylang oil and bilimbi fruit. Our couples treatment starts with a bitter-orange-extract-and-sand foot scrub, followed by a coconut-oil massage. I'm just about to fall asleep when it's time for our papaya wrap.
Couples therapy has eased my frustration over our failure to nab Anse Maquereau despite our daily 6 a.m. attempts to reserve it. Nevertheless, I'm still suspicious that somehow guests are slipping cash to the night security guard to flip the sign before sunrise. So I devise a scheme: After dark we'll sneak over to Anse Maquereau and abscond with the BEACH OCCUPIED sign so it's impossible for anyone else to reserve it.
Success! The next day—our last on Frégate—Maquereau is ours. My only regret: We should have saved Frégate for our honeymoon.
Copyright © Michael Behar. All Rights Reserved.