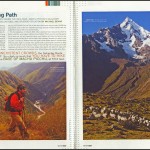 A New Shining Path Download PDF
While thousands of trekkers swarm the Inca Trail, Machu Picchu's Salcantay Route offers better views, deluxe digs, and splendid isolation."
It's early may and I'm trekking to Machu Picchu with Enrique Umbert, a 57-year-old Peruvian commodities trader who just confessed to me that his passion for the Andes "is like a love affair with a beautiful woman." I can see the attraction: Directly in front of us are Humantay and Salcantay, dueling ice-clad peaks, 19,412 and 20,574 feet tall, respectively. Gravity-defying glaciers cling to their summits, and every so often a tractor-size slab of ice calves off and triggers a thundering avalanche into a distant ravine. The twin massifs frame a radiant half-mile-wide meadow called Soraypampa, our campsite for the night and the starting point of the spectacular 30-mile Inca path called the Salcantay Route, a little-known, backdoor way to Machu Picchu.
More than 50,000 tourists per year hike the well-known Inca Trail to the famed ruins. Others hop a train from Cuzco, the ancient Inca capital, and beeline it there in a day. Or, for those in a rush, there's a helicopter service that'll whisk you to the ancient city faster than you can say "Been there, done that." Umbert is not too thrilled with any of these options, so he's in the midst of creating a tantalizing alternative. Mountain Lodges of Peru, an upscale lodge-to-lodge trek along the Salcantay Route, which is more than 500 years old, begins just two hours west of Cuzco by car, and rises to within an echo of some of the tallest and most rugged peaks in South America. In addition to nonexistent crowds and righteous views, the Salcantay also gets you high: From Soraypampa, at nearly 12,000 feet, it crests a 15,000-foot glacier-fringed pass, climbing so much that you actually have to descend—the trail plunges 7,000 feet, passing the Río Santa Teresa along the way—to reach the base of Machu Picchu, at 7,710 feet. The Inca Trail, on the other hand, maxes out just under 14,000 feet and spends much of the time meandering through densely forested foothills with only scattershot views of the snow-covered Andes.
The four properties of Umbert's $3.5 million adventure-resort network (to which he plans to add ten more lodges, scattered around Machu Picchu, over the next five years), set to open this July, are ringed by Andean awe. Trekkers will follow the trail to a new lodge each day, winding down with an après-like massage, followed by a soak in a hot tub, then a sumptuous Andean feast that might include grilled alpaca or smoked trout. Snoozing each night in a private suite, tucked under a goose-down comforter to keep out the chill, they'll arrive at Machu Picchu on the sixth day. The inn being built at Soraypampa will serve as the trek's base lodge, where guests will spend two days acclimatizing with guided walks, horseback tours, fishing forays, and mountain-bike rides.
At the moment, I'm doing none of the above. Instead I'm sipping coca-leaf tea, a Peruvian remedy for altitude sickness. So far, it's working. Nearby, laborers—directed by 43-year-old Mountain Lodges chief architect Leonel Palacios—stack earthen bricks onto a perimeter wall. Palacios waves me over and unfurls some blueprints. His English is marginal and my Spanish is worse, but I get the gist: Alpenglow will bathe guests in crimson hues at dinnertime, thanks to floor-to-ceiling windows in an upper-level dining room, and all 12 suites in the 12,000-square-foot lodge will have a 270-degree view of the valley and snowy cirque.
Guests will relish the high-alpine decadence, but they aren't the only people who will benefit. The project will also be a boon for the locals living along the route. "This is a personal mission for me," says Umbert, who owns sugarcane and rice plantations, a Lima jazz club, and a swanky lodge near Peru's southern coast. When he hiked the Salcantay for the first time, in 2000, Umbert was so enthralled after just two days of trekking that he stopped to convince local landowners to sell him plots. To improve the locals' quality of life, Umbert will install a system for piping freshwater to nearby villages and offer employment at his lodges, with perks like on-the-job training and English classes. He's hired a full-time "director of social responsibility," who's charged with preserving the Quechua culture and protecting the Salcantay's fragile ecosystem. There's even a plan to install three micro-hydroelectric stations to generate electricity for families who live in the region.
"That can't be environmentally friendly," I say to Umbert.
But he assures me it is: The four-by-four-foot devices will be well camouflaged, and the wires and power lines will be buried underground. "With electricity we can build schoolhouses," he says. It's hard to argue with that.
Under blue sky, we begin our four-day walk on the Salcantay toward Machu Picchu. There are only 12 of us—a team of outfitters, contractors, and investors here to preview the route—but it takes 30 mules, seven horses, and 1,300 pounds of food and equipment, plus two guides, two cooks, and eight mule drivers.
We set off from the trailhead carrying only water and snacks in our daypacks, just as trekkers will do once the lodges are open. Because mules do the heavy lifting, the daylong hike over 15,127-foot Salcantay Pass—the highest point on the trek—isn't difficult. The trail switchbacks up smooth talus interspersed with silky green grass. We're above tree line, climbing scree and skirting huge boulders flecked with fiery orange lichen. Wildflowers crane west toward the afternoon sun. I glance up to see a falcon soaring overhead.
By 1:30 P.M. we reach the pass. A cold wind funnels through its craggy saddle, where cairns, or apachetas, have been left as offerings. "We're asking permission from the gods to be here," says Enrique Umbert Jr., general manager for Mountain Lodges and Enrique's oldest son, as he hands me three coca leaves. "And we're asking for the wellness of Mother Earth." We wave the leaves in each cardinal direction, then tuck them beneath a mound of small stones. Our guides do the same.
The view from the saddle unveils a lush valley to the west and yet another 19,000-foot-plus peak, Tucarhuay. Umbert Sr. points out a cluster of thatched huts in the center of a meadow. It's Huayraccmachay, a tiny five-family encampment of cattle ranchers and farmers. "That's where we're building the second lodge," he says. The altitude doesn't faze our guides, who hustle ahead to set up camp. Thanks to the coca tea, I'm feeling pretty good, too, and stride down the pass to reach 12,864-foot Huayraccmachay. When I arrive two hours later, our cook is waiting with a round of pisco sours—Peru's national cocktail, concocted from pisco (a type of brandy), lime juice, egg whites, and bitters—which make my head feel even better.
Later, Umbert shows me a topo map that encompasses the entire region surrounding Machu Picchu. With a red felt-tip pen, he highlights the Salcantay Route and marks the location of the four lodges now under construction. But he continues, drawing circles around plots for the ten other lodges. With 14 properties in all, and each lodge only a day's walk to the next, you'll be able to custom-design a trek of nearly any length. Or you might go whole hog, says Umbert, and tackle the entire network—a three-week tour through the high Andes, with stopovers at Machu Picchu and its sister city, Choquequirao, about 50 miles away.
On day three we follow the Salcantay Route along the Río Santa Teresa. A third lodge, in the settlement of Collcapampa, will be perched on a 1,000-foot bluff above the river. From our camp, I can hear Class V whitewater roaring below. After dinner, our group takes a moonlit walk to a secluded hot spring. We strip off our clothes and melt into gurgling 100-degree water.
By the time we reach Lucmabamba, an isolated village in the lush jungle and the location of the fourth lodge, I've entirely forgotten about Machu Picchu. For five days the wild and changing landscape has consumed me. When the lost city of the Inca finally comes into view, I'm a bit startled. Oh, yeah, I think, that's why I'm here.
Of course, Machu Picchu doesn't disappoint when I visit the ruins the next day. It's a classic Andes moment: We arrive at dawn and stumble through a thick, spooky fog that shrouds the ruins. But with the midday sun, Machu Picchu slowly takes shape. Huayna Picchu—the 8,641-foot emerald spire that's the backdrop for the classic Machu Picchu snapshot—watches over a labyrinth of lush terraces, ancient stone temples, and cloistered chambers.
Soon the sun burns off enough fog to reveal the valley 2,000 feet below, and I see what appears to be a sprawling, overcrowded refugee camp on the banks of the Río Urubamba. It looks like a colorful patchwork quilt, dotted with dozens of tents and throngs of ant-size people. Our guide chuckles when I ask him about the tent city. "Those aren't refugees," he says. "It's a campsite for hikers on the Inca Trail." Knowing that for five days we had the Salcantay Route virtually to ourselves, it dawns on me that I'm about to blow the best secret in Peru.
Copyright © Michael Behar. All Rights Reserved.