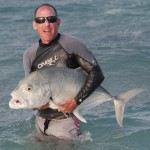 I have only one regret—having not stayed longer in Kiritimati. Why? Because kayak fishing is crazy addictive, something I quickly learned while on assignment for Hemispheres magazine. It was my first time trying it—well, really, my first time doing any serious fishing at all. But fishing from a kayak for massive tuna, or whatever happens to bite, was an unexpected thrill. I've never really understood fishing. It's too static for my blood. That all changed once I slid into my tiny kayak, with a 50-pound rod, offshore a speck of an island in the
middle of the Pacific Ocean. The vulnerability is both rousing and terrifying. Knowing that any moment I might hook into a 150-pound pelagic beast was enough to keep me hucking my lure, relentlessly, for my weeklong stay.
Only, I needed another week, or two, or three. A week was just enough time to snag a 40-pound giant trevally. I hooked it on my last day. Sadly, I was standing in the lagoon shallows when it happened, my kayak strapped to the side of our outrigger mothership. I desperately wanted to experience what my guide, David Elgas, described as the "sleigh ride." You can probably figure out what that means. Elgas stayed another week and eventually caught some hefty fish from his kayak. He sent photos. I was jealous. Only once did I hook something big, and just for a few seconds. My kayak nearly capsized. And then my line snapped. Novice move on my part. Apparently, I had the tension set too high on my reel. Had I caught something larger—a tuna, perhaps, or even a shark—and let it drag me around for a few hours, I could have called myself a legit member of the kayak-fishing brotherhood.
Another untold part of the Kiritimati expedition: kiteboarding. Two pro-riders from Cabrinha, a major manufacturer of kite gear, joined me on the trip. Their names are Reo Stevens and Cole Whitney. For several months prior we scouted the location using Google Earth. The flatwater appeared endless—encircled by Kiritimati's massive lagoon. And surf breaks abounded, at least on the satellite snapshots. Yet, we had no information about potential rideability, weather, launches, or hazards. I managed to get in touch with a few locals, including Peter Harding, who runs a surf camp there. He told me, "It's windy all the time." Wind is essential to kiteboarding. But I was skeptical. Kiritimati sits only a few degrees north of the equator, an area of our planet that's typically calm and windless. Ever hear of the Doldrums? That should have been Kiritimati.
For previous kite expeditions, my go-to sources had been the meteorologists at Oregon State University's College of Oceanic and Atmospheric Sciences. They've cranked out numerous studies on global wind patterns and run a terrific website should you be looking for the world's windiest places. Dudley Chelton, a professor of physics of oceans and atmosphere at OSU, explained the Kiritimati phenomena. He wrote me in an email, "Regarding the science behind the strong and steady winds at Kiritimati, there is a band of very cold water centered along the equator (called the equatorial cold tongue) with an extremely strong sea-surface temperature (SST) front along its north side. The SST has a very strong influence on surface winds, with low wind speeds over cold water and high wind speeds over warm water. The southeast trade winds become very light as they blow across the cold tongue. When they reach the SST front on the north side of the cold tongue, they accelerate and quickly become very strong." Got all that? His email, plus the 20-page study he authored on the topic, convinced me to haul kiteboarding gear to Kiritimati.
The flatwater was epic (and overused word but in this case understated), and locals told us we were the first people to ride the inner lagoon. The island kids went nuts for the kites, having never seen them before. The adults seemed both curious and terrified, like a winged alien race had invaded. The waves were a bust, mostly breaking over dry reef (something you can't deduce from Google Earth) in dead-offshore winds. Even so, we discovered what Stevens and Whitney described as the "best flatwater riding we've ever seen." Coming from two jaded pros, that's something. What's more, we tapped a previously unexplored and uncharted riding spot. Pretty neat, in my opinion. I kept GPS tracks to most of the launches, which, to reach, required threading our guide boat through sketchy and mazelike shallows and reefs that underwent hourly metamorphoses with the incoming and outgoing tides. Drop me an email if you're headed that way and I'll send you the coordinate logs.