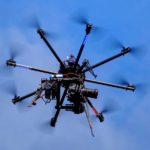 [Originally published at Airspacemag.com, June 23, 2016]
Drone pilots are celebrating, finally.
This week the Federal Aviation Administration published its much-belated rule to govern the commercial use of small, unmanned aerial vehicles (UAVs) weighing less than 55 pounds. The new regulation, called Part 107, is great news to the millions of drone users in the United States who have been waiting nearly four years for the FAA to issue its UAV guidelines, ever since Congress passed the FAA Modernization and Reform Act in 2012. The agency came out with a proposed rule last year, and had been reviewing public comments before issuing a final version.
Until now, the FAA had prohibited virtually all drone-related businesses. With Part 107, the agency gives photographers, filmmakers, journalists, aerial surveyors, real-estate agents, farmers, ranchers—virtually anyone—permission to use a drone in their profession.
Take note, however, that when Part 107 takes effect on August 1, nothing changes for small (sub-55-pound) recreational drones.
"The hobbyists still have to operate under the model aircraft rule that Congress set up in 2012," explains Les Dorr, a spokesperson with the FAA. If you're flying drones just for fun, you must abide by Section 336 of Public Law 112-95, or the "Special Rule for Model Aircraft," which Congress mandated in the Modernization and Reform Act. The requirement states that recreational UAV operators must be able to see their drones at all times—known as "visual line-of-sight"—fly them below 400 feet, steer clear of other aircraft, and stay at least five miles away from airports. But remember, if you're using that same hobby drone in connection with a business, then its operation falls under Part 107. "The new rule is really one that defines use rather than the aircraft itself," Dorr says.
Part 107 sets similar limits on how high commercial operators can fly (400 feet), how fast (100 miles per hour), when (daylight hours only), and where (away from airports or over anyone not directly involved with the drone's operation). Commercial UAV pilots also must be at least 16 years old, maintain a visual line-of-site with their drone, and yield the right-of-way to all other aircraft with standard see-and-avoid practices: that is, if you see another plane, get out of the way. Commercial operators will be able to request a waiver for most of these restrictions "if you can show that your proposed operation can be conducted safely under a waiver," according to the FAA. The agency will set up an online portal to take waiver applications.
The best thing about Part 107? The FAA dropped its initial recommendation that would have required commercial UAV operators to hold a pilot's license, a stipulation that experts feared would have stifled the booming drone industry, which is estimated to generate more than $82 billion and 100,000 jobs over the next decade. Now a commercial UAV operator only needs a so-called "remote pilot airman certificate," which he or she can obtain after passing a basic aeronautical knowledge exam at an approved FAA testing center.
With Part 107 on the books, the FAA is now moving ahead with a rule to deal with drone pilots who want to fly micro UAVs (under 4.4 pounds) over crowds. "It will allow [drones] at construction sites, where people are working, so you can do building inspections," says Earl Lawrence, who directs the FAA's Unmanned Aircraft Systems Integration Office. "It will also allow the news media to start covering events where there are a lot of people around." Think sports stadiums and music venues—or the Super Bowl and Springsteen, coming soon from a drone near you.