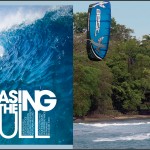 Chasing the Bull Download PDF
Sailing a fully stocked 57-foot catamaran, kitesurfer and entrepreneur Gavin McClurg sets out to find and tame the big a strapping winds in Panama's Bocas Del Toro.
I'm not a sailor, but I'm pretty sure that attempting to thread a 57-foot sailing yacht through a shoulder-deep, mangrove-choked estuary isn't prudent seamanship. We entered this maze of islets 20 minutes ago on Discovery, a Lagoon 570 catamaran, motoring on twin diesels, and so far we haven't run aground. But I keep glimpsing stacks of billowy black coral inches below the surface of the crystalline flatwater. Captaining the ship is 36-year-old Gavin McClurg, a slight-framed boatman who has spent the past decade ocean-hopping. He purchased Discovery in Italy on December 22, 2006, and less than 12 hours later sailed her 5,000 miles across the Atlantic Ocean. "No tools, no bedding, no spares, no nothing," he says. When we set sail earlier in the day from a sleepy marina in Panama to commence a weeklong expedition through the Bocas del Toro archipelago, McClurg had only a crude itinerary and just one goal: to find good wind. McClurg, along with his two dozen passengers, hopes to become the first to kitesurf in these remote islands. At the moment, however, McClurg is darting from his vantage point on the starboard stern to Discovery's saloon, where he checks a map on his laptop. His girlfriend and first mate, Jody MacDonald, 33, is standing on the boom, watching for hazards from her 14-foot perch.
"Reeeeeeeeeeeef!" she screams. MacDonald unwinds by BASE jumping, so her panic is alarming. "What does the chart say?" Continue reading →