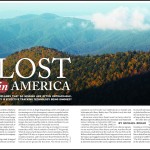 Lost in America Download PDF
Airplanes that go missing are often untraceable. Why is effective tracking technology being ignored? 
The morning of December 9, 2009, began cool and clear. In Dorrigo, an Australian town about 300 miles north of Sydney, the pilot of a Bell 206L-1 LongRanger helicopter took off on his second flight of the day. The 29-year-old (officials did not release his name) was under contract with the New South Wales National Parks and Wildlife Service to aid crews fighting bushfires. Also aboard was Aaron Harber, a 41-year-old park ranger being ferried to Cathedral Rock National Park, where he would help battle a blaze.
At 11:20 a.m., a few minutes after takeoff, the pilot flew into a thick fog. He immediately lost all visual reference points. For a split second he glimpsed a ridgeline and a cluster of trees, then nothing. He knew he was perilously close to the ground—perhaps just 20 feet above it—but had no idea what direction he was traveling in. "This is not good," he told Harber. "I'm going to try to land." When the pilot yanked the cyclic to flare the chopper and slow its speed, there was a loud bang, and the LongRanger went into a flat spin. The main rotor snapped and sliced through the cockpit canopy just as the aircraft slammed into the ground. In the impact, Harber's seatbelt shoulder harness was severed. Continue reading →