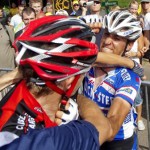 In a place where every third person is an elite triathlete, competitive ultrarunner, or just maniacally OCD about exercise, a catastrophic flood creates its own set of only-in-Boulder problems. All of the county's 97,000 acres of open space are closed—trails have been ravaged and many are impassible. Most of Boulder's biking and running paths doubled as flood-mitigation canals. They're either still submerged or decimated, or both.
In desperation, mountain bikers are poaching playgrounds. Road cyclists are also going postal. Flagstaff, Lefthand, Sunshine, Lee Hill, Fourmile, Jamestown: These are the names of popular training climbs. Unfortunately, the routes wend through canyons where flashfloods shredded roadways. With nowhere to prep for their 657th Ironman except indoors, things have grown tense between folks at Boulder's athletic clubs. The 60-minute limit for treadmills and spinner bikes is being flagrantly ignored. Fights are breaking out; waitlists disregarded.
The outdoor pool at our gym is clogged with mud and debris—a club employee saw a fish jump in it a few days ago. Even so, swimmers are bitching vehemently about the pool closure to club managers, many of who have been pulling all-nighters to get it up and running. God forbid these nutjobs use the perfectly functioning indoor pool, which has been vacant all week because it's a whopping four meters shorter and two lanes narrower than our outdoor venue.
Meanwhile, FEMA inspectors are getting claims for yoga mats.
The bad behavior in Boulder began with the weather models, which went rogue early on. "None of them did a fantastic job across the board. In fact, as we got closer to the event, the models went off the rails." That was Kelly Mahoney speaking at a panel discussion held at the University of Colorado's Cooperative Institute for Research in Environmental Sciences (CIRES) two weeks after Boulder's megaflood. About 100 people had gathered to hear what four climate experts, including Mahoney, had to say (or not say) about the flood.
Mahoney is a scientist for CIRES who works at NOAA's Earth System Research Laboratory. The "models" she referred to are the computer models used to make long- and short-range forecasts. There are three major ones: the Global Forecasting System and North American Mesoscale, which are produced in the U.S. by the National Weather Service and the National Centers for Environmental Prediction, respectively; and the European Centre for Medium-Range Weather Forecasts, run by an intergovernmental agency in Britain. To produce the models, supercomputers crunch atmospheric data on things like temperature, wind, and humidity, and then make guesstimates as to what the weather might do. But during the days and hours preceding the Boulder floods, the atmosphere was acting so freakishly that, in some cases, the modeling software assumed it was dealing with erroneous data and chucked it out. That led to forecasts for light rain and a few inches of cumulative precipitation—certainly nowhere near the 21 inches that fell near my house in less than a week.
The Doppler radars went berserk, too. The ones we have in Colorado apparently aren't calibrated to "see tiny droplets in a warm air mass," Mike Nelson, the on-air weatherguy for 7News, Denver's ABC affiliate, told those gathered for the CIRES talk. He was in the audience, sitting next to me. During the peak of the storm, Nelson said that at times the Dopplers were displaying "shades of green," indicating mere sprinkles, when they should have been screaming deep reds and purples, which translates to a deluge.
Klaus Wolter, a CIRES panelist and scientist who studies extreme weather, said the atmosphere was in "outlier mode," a condition that likely contributed to failing models. Now that the Intergovernmental Panel on Climate Change has confirmed in its latest report that extreme weather events are indeed on the uptick, it might be wise to recalibrate the supercomputers so models actually work when we need them most. With improved forecasts, Boulder's überjocks can begin their exodus to drier climes before the inevitable health club riots, which right now are imminent if trails and roads don't open soon.