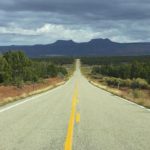 On December 2, 2016, TakePart published my article on a new national monument proposal in Southeast Utah. Exactly 26 days later, President Obama used an executive order to create the Bears Ears National Monument. I'd like to imagine my article has some teeny tiny impact on Obama's decision. The new national monument permanently protects more than 1.35 million acres.
Within hours of the announcement, Utah Republicans vowed to eliminate the monument. Utah Republican Senator Orrin Hatch met with Trump in late January. According to the Washington Post, Hatch reported that "President Trump is 'eager to work with' Republican lawmakers on undoing new federal protections for Bears Ears." Trumps interior secretary nominee, Republican Representative Ryan Zinke, from Montana, is apparently eager to undo the monument, which he called "a travesty."Presidents have the authority to create national monuments under the 1906 Antiquities Act. Since the law was established, no president has ever successfully reversed a national monument declaration. And legal scholars doubt its even possible. In 1938, the U.S. attorney general, Homer Stille Cummings, clarified the scope of the Antiquities Act in a formal opinion after President Franklin Roosevelt threatened to abolish the Castle-Pinckney National Monument in South Carolina. Cummings wrote, "The statute does not in terms authorize the President to abolish national monuments, and no other statute containing such authority has been suggested. If the President has such authority, therefore, it exists by implication."
Trump might try anyway, which will kick off a legal battle that would likely end in the U.S. Supreme Court. Republicans in Congress could also attempt to pass legislation to undo Bears Ears. But Democrats would surely filibuster to halt any such measure in the Senate. So what's the consensus among conservation experts? Monument status is extremely difficult to reverse, which writer Chris Solomon explains in his Outside Online article, published last year, titled "Overturning Bears Ears Is a Long Shot, But That Doesn't Mean Republicans Won't Try."
Last year, I spent five days in Bears Ears, exploring the area on foot and mountain bike. Later, I interviewed those who've worked for decades trying to get it protected. I also spoke with several locals in the region who opposed the monument. Ultimately, I felt monument status was warranted, though the initial size of it—1.9 million acres—outlined in the Bears Ears Inter-Tribal Coalition proposal, seemed a touch too big. So did Obama, who cut down its acreage by 30 percent in his final proclamation. Now let's hope it stays that way, forever.