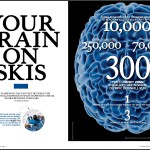 Your Brain on Skis Download PDF
What happens in that six feet between the couloir walls depends on what happens in the six inches between your ears.
I'm at Silverton Mountain, Colo., crippled with fear. Standing on the lip of a heinously steep couloir known as Meatball — a six-foot-wide chute hemmed with serrated crags sharp enough to disembowel an SUV — I try contemplating a line but soon sit down in the snow. My guide has toured me through some of Silverton's most formidable terrain and I never flinched. Now I'm paralyzed.
Fear arises in the brain from tiny, almond-shaped bundles of neurons called amygdala. Ignited by an external trigger — a precipitous couloir will do — the amygdala dumps adrenaline into the bloodstream and jacks up the pulse. It fires without permission, a subconscious hijacker channeling primal instincts: fight or flight. I choose flight, but my guide offers an alternative. "I'll go first," he instructs. "Then you follow, making your turns exactly where I do." I reluctantly agree, and the demanding cognitive effort it takes to mimic his every move quells my anxiety.   Continue reading →